Gypsie & Bugs' pups
Puppies Arrived April 23, 2016!
2 Males & 6 Females
ALL PUPPIES ARE SPOKEN FOR!
Thank you all !!
6 week pictures are here!!
Growing like crazy :)
We took the 6 week photos INSIDE as the weather is just too hot!
It was 96 degrees outside... :)

Week 1 Week 2 Week 3 Week 4 Week 5 Week 6





Male-Black/Tan
Sara & Tom
Maryland










"Nashoba"
(Native American for Wolf)
Male-Black Sable
Debbie
North Carolina










"Liberty"
Female-Sable
Kasey & Family
Second Puppy :)-THANK YOU :)
New York









"Zelda"
Female-Black Sable
Orange Tag
Ruby & Jake
Second Puppy-THANK YOU :)
Virginia










"Coco"
Female-Black Sable
Green Tag
Bill & Paula
Mississippi










"Stara"
Female-Black Sable
Yellow Tag
Steve & Family
Second Puppy! THANK YOU!
Ohio









"Mischa"
Female-Black Sable
Pink Tag
Rick, Cathy & Brett
Third puppy! THANK YOU!
Ohio








"Rubie"
Female-Black Sable
Aqua Tag
We are keeping this little gal.....



Although the darker pups all look like they are BLACK, they will be Black Sable.
They are beautiful when grown!
A few photos of previous pups :)


Black Sable Colors below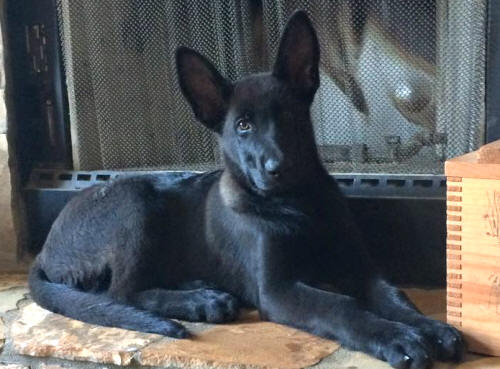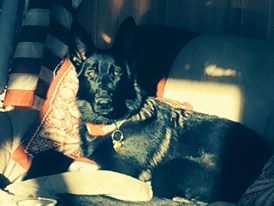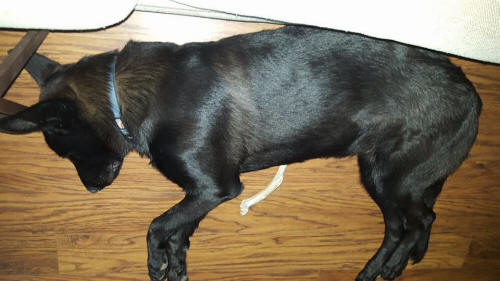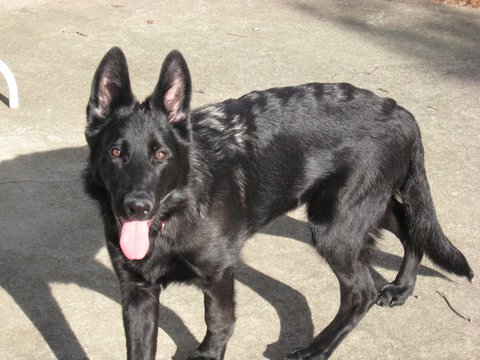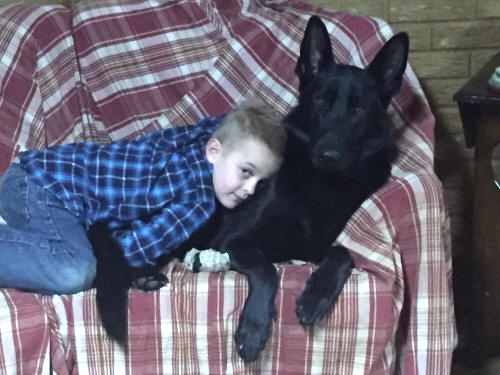 Puppies a day old......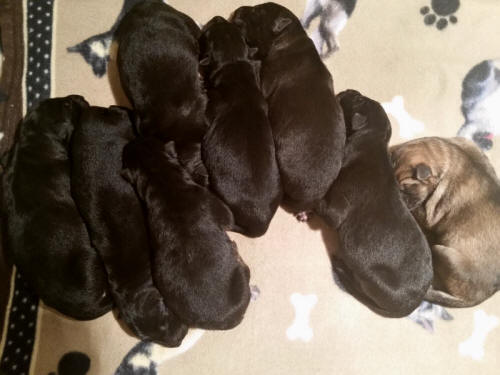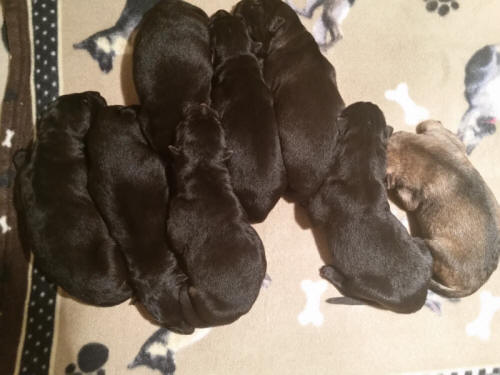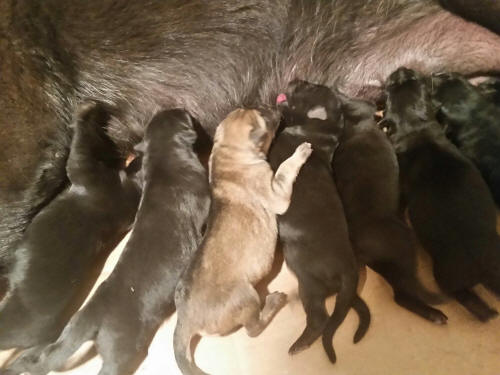 Gypsie is amazing! I never tire of watching her "do her thing" :)
I am so blessed to have such a good Mama!

All the puppies are beautiful and doing great!

The first few days are crucial for her and the pups to just bond and relax,
SO I will not have individual pictures for a few days :)

We are VERY excited about this litter, as there are quite a few folks who have
been waiting on this to happen :) Spring has sprung finally :)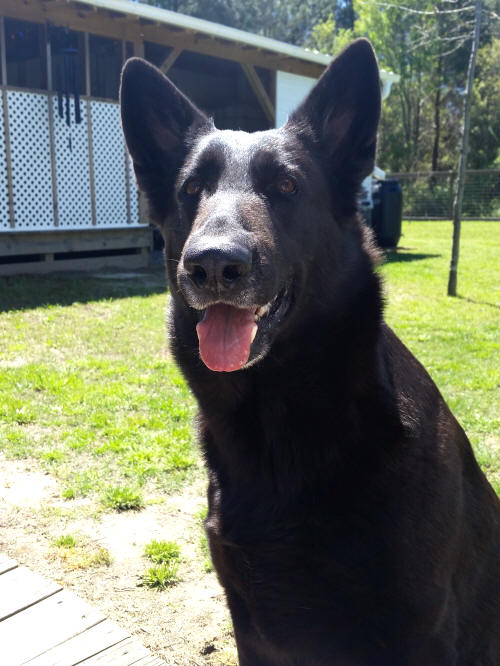 Gypsie enjoying the warm sunshine :)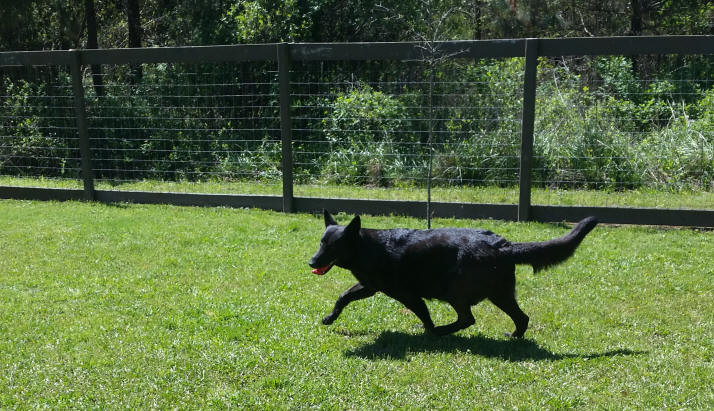 Getting some exercise :)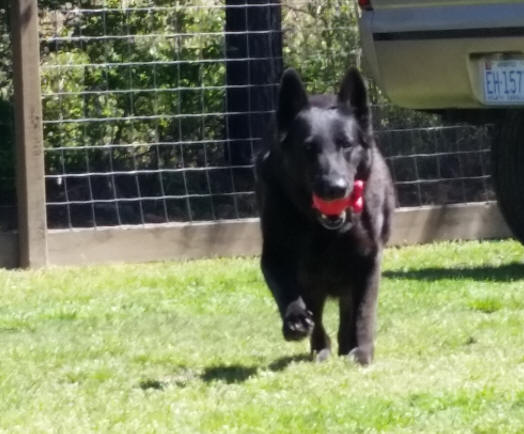 Her favorite place to lay and watch us....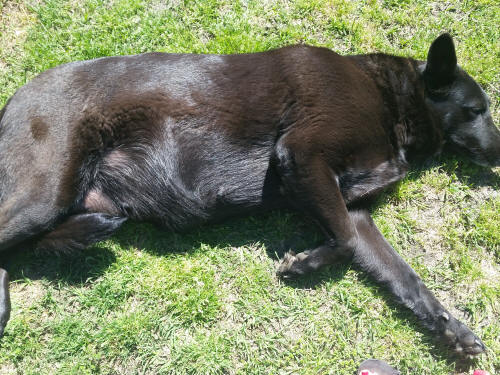 Showing off her belly....about 3 and half weeks to go :)



They really are ALWAYS together :)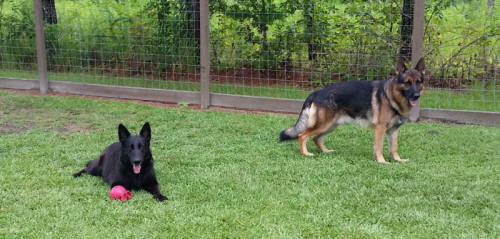 Bugs always lets Gypsie have the ball :)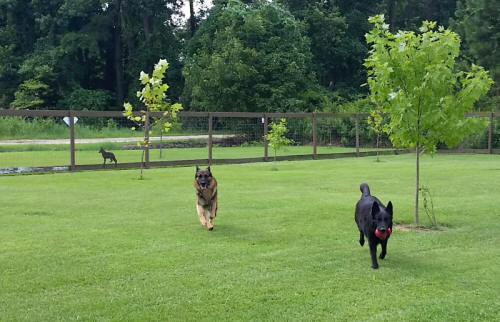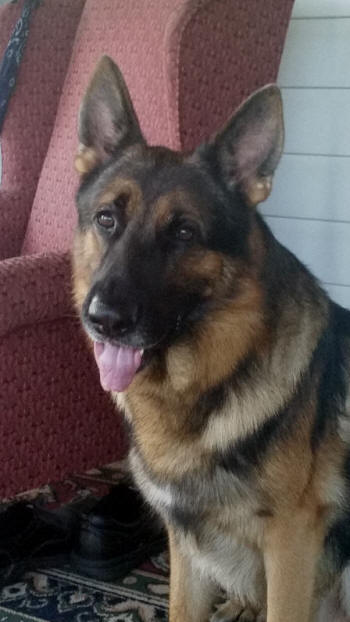 Bugs :)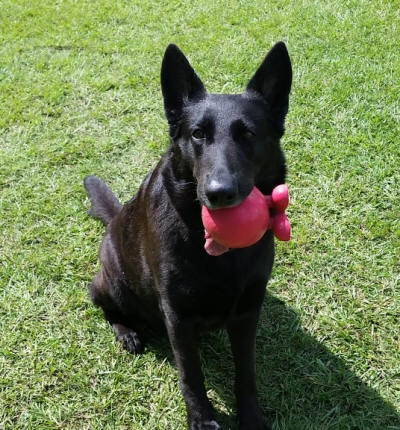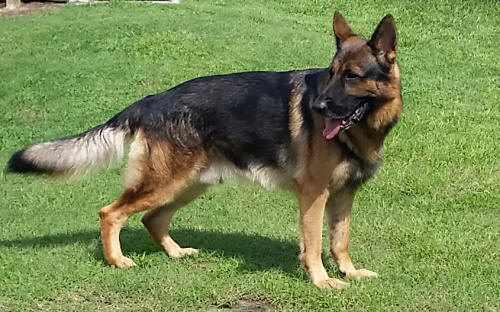 ......out playing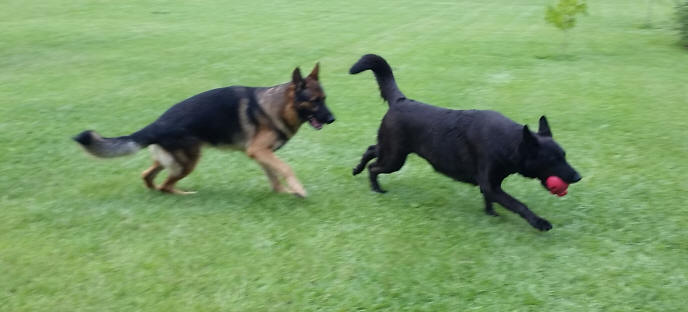 He really does have 'other things' on his mind LOL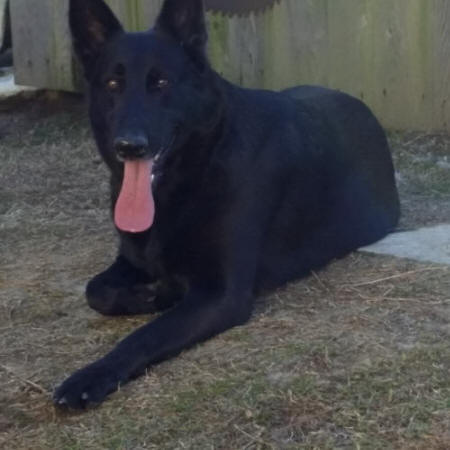 Gypsie is a very large and strong female!!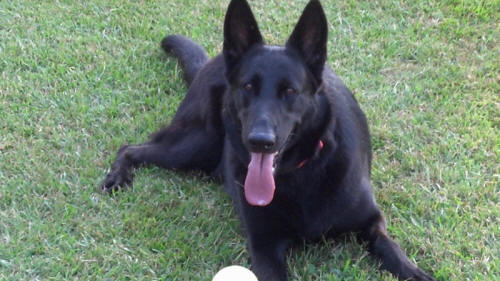 I LOVE GYPSIE!!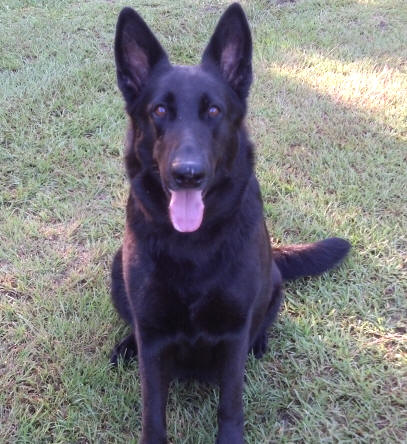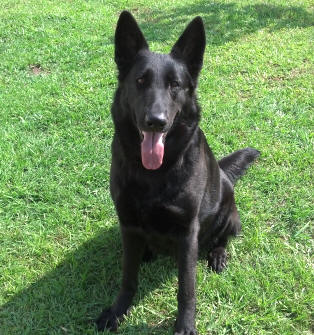 Gypsie is a wonderful gal who OWNS my heart :) I am so blessed to have her!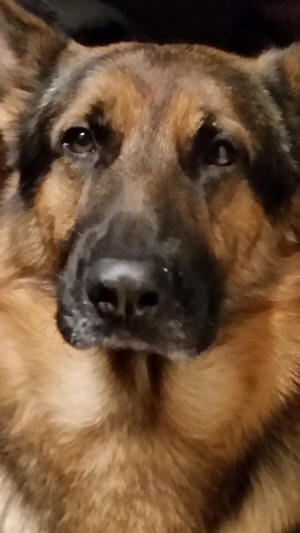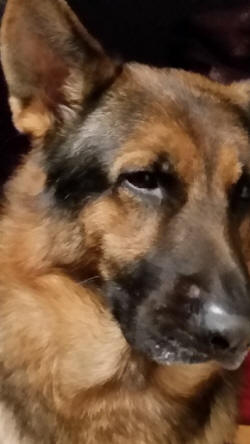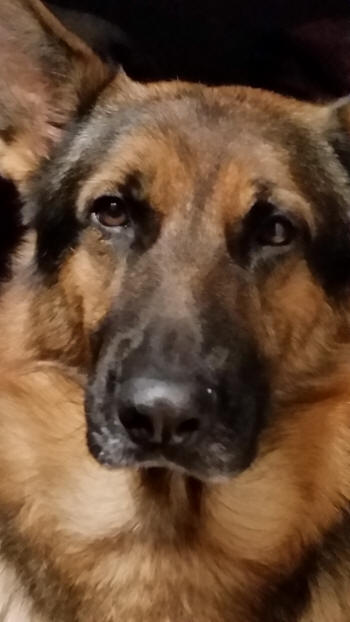 Bugs is like no other...he has been patient and kind with me when I was mourning Bubba...
Offering love, hugs and kisses :)
Bugs knew that I needed him :) Bless his heart....I will always love this boy....always :)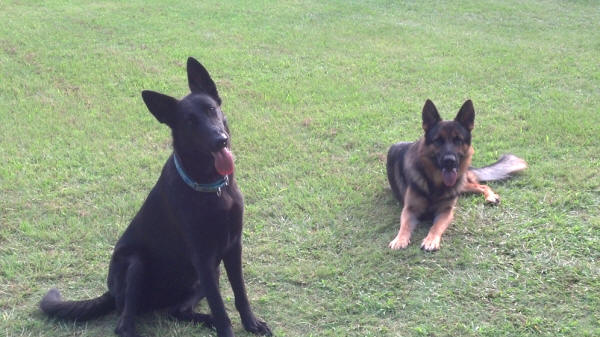 Gypsie & Bugs are never far from each other....
it's really neat to see the love they share between them :)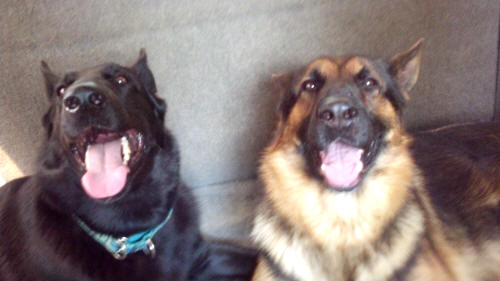 These two have grown up together...where one is...the other is close by....
they have a great bond and connection and we are excited about their litter together.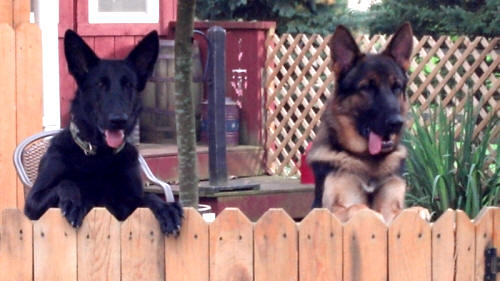 Both were young here : )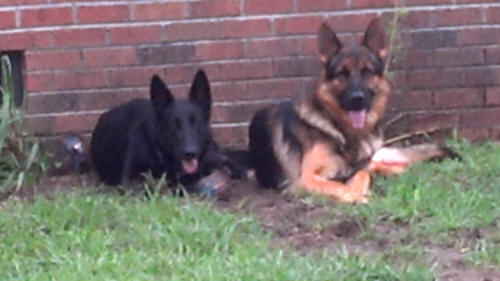 Working....LOL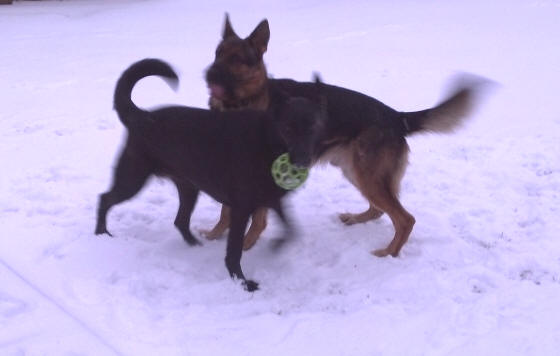 Playing : )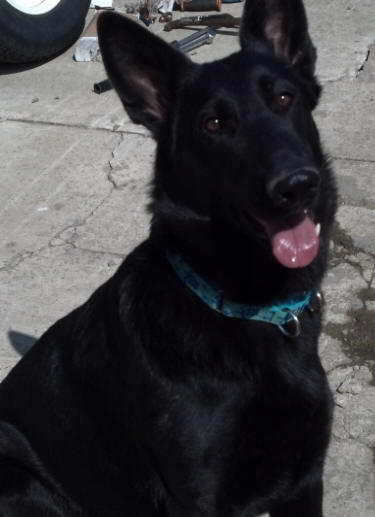 Gypsie when she was a little younger :)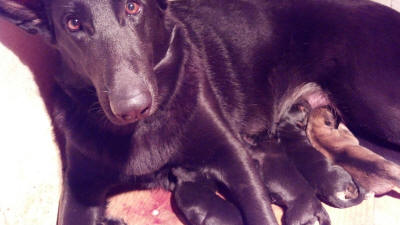 Gypsie with her pups from her last litter...she sure reminds me of her mother below....KODIE...
I want to let folks know that Gypsie is ONE OF THOSE shepherds....in my life....I think we all have one or two :) She is very special as her mother KODIE is still here with me....OLD and a little gray, but still going strong...Kodie's Mom, CODY has passed, but what a great girl she was and she was the beginning and foundation of what we do today...
So Gypsie is carrying on a very special bloodline for me...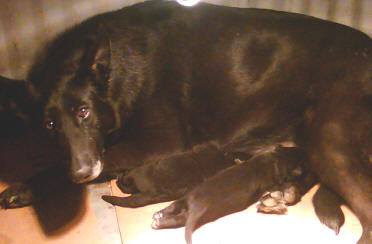 THIS IS KODIE above....
Gypsie's MOM...with her 2 pups, her last litter of puppies for us...Reminds me of GYPSIE above :)
Jack Frost is Gypsie's Dad :)
One of them is Gypsie and the other is a male, Jager....He lives with Bryan and his family in PA!
Gypsie's father, JACK FROST is also a very special dog :) He is a son of DANNI who in turn is a son of BUBBA.....making Gypsie a great granddaughter of BUBBA :) There are ALOT of my shepherds in Gypsie's bloodline...GIZMO is also in there...who was one of my foundation males siring over 20 litters from us....
We also have KESHA and NITTY in the bloodline :) Kesha is Jack Frost's MOMMY and NITTY is Danni's mommy :) It's a very long pedigree and very dear to my heart....

Gypsie is a very large female where Bugs is a standard size male for his bloodline.

Bugs's father below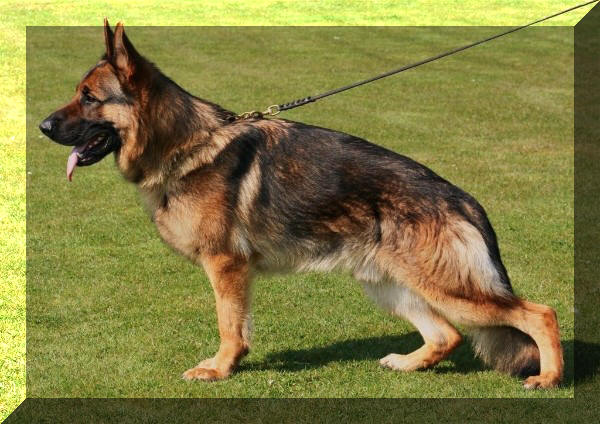 VA WAIKO vom Schaumbergerland SccH3, KKL1, a hips & elbows
is a wonderful shepherd both on and off the Schutzhund field...although this is a work/play sport, the shepherds that participate are also very friendly and make wonderful family companions...
Waiko has sired many litters in the US and has continued to keep doing well in shows.


Here is BUGS pretending to be like his Dad :) Bugs is just 10 months old in this photo :)
Angling him like the gentleman is ding is called "staking" and that is just for show...
Please let me know if you have an interest...
I have links to both Bugs's page and Gypsie's page below....and I will be updating this page with new pictures as well.
THANK YOU kindly :)