RAISING GENERATION after Generation on the best vitamin around~~
Pictures and info about them below.......
I want to tell you more about DOG BLOOM PRODUCTS and who stands behind them!
http://www.dogbloom.com
1-800-833-4748
ASK FOR DIANA! but I am sure anyone can help you : )

I have used this product for most of the years I have been breeding. Would I be without it? NEVER! Cody was young when I first heard about Dog Bloom. We had just brought home Blizzard at the time, a beautiful WHITE MALE we used here for alot of our white puppies!! Blizzard was from Snowcloud Kennels in Illinois. That is also where Bubba comes from as well as Little Blue, Teakie, Buddy, Meggi, Blue and Redhawk and the list goes on and on : ) right up to the present :)
I believe that Cody was with us for 14 years because even after having all her litters for us, running daily with the kids, the horses and actually going over 2500 miles with me and my horse, playing basketball, swimming and then in her later years, just being CODY, she was ALWAYS HEALTHY! I give credit to Diana, the owner of DOG BLOOM! SHE was always there for me, always answering my emails and phone calls and keeping me on track with all my Moms and Puppies!!
Diana will be there for YOU and your New Puppy as well!!
This is a product for everyone who has a puppy or dog, whether it be a family companion or a show or working dog.....Dog Bloom can help maintain them into a healthy old age!!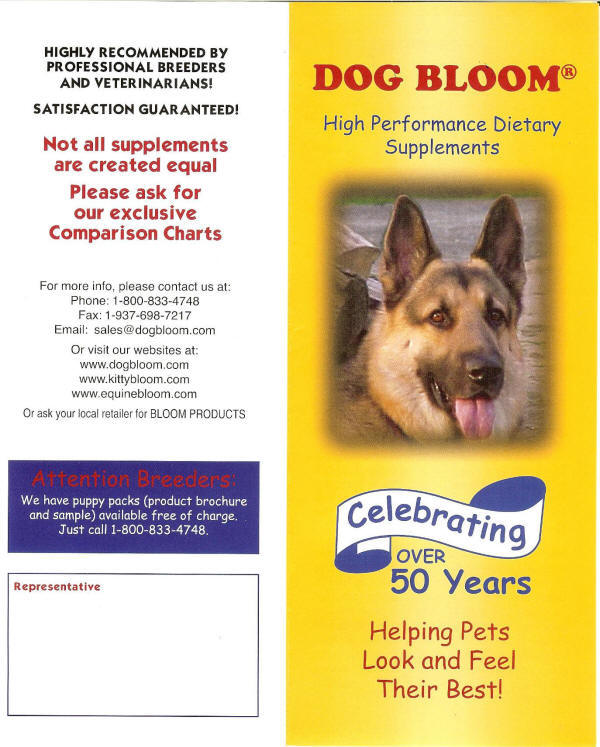 YES, this is BUBBA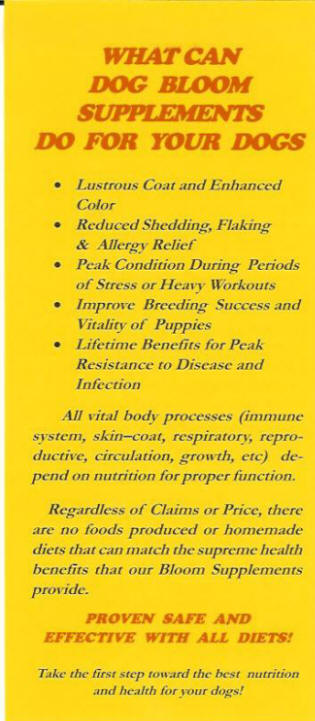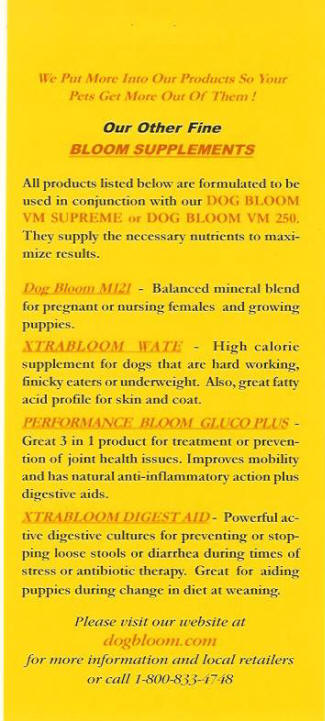 I will never be without Dog Bloom for my shepherds!!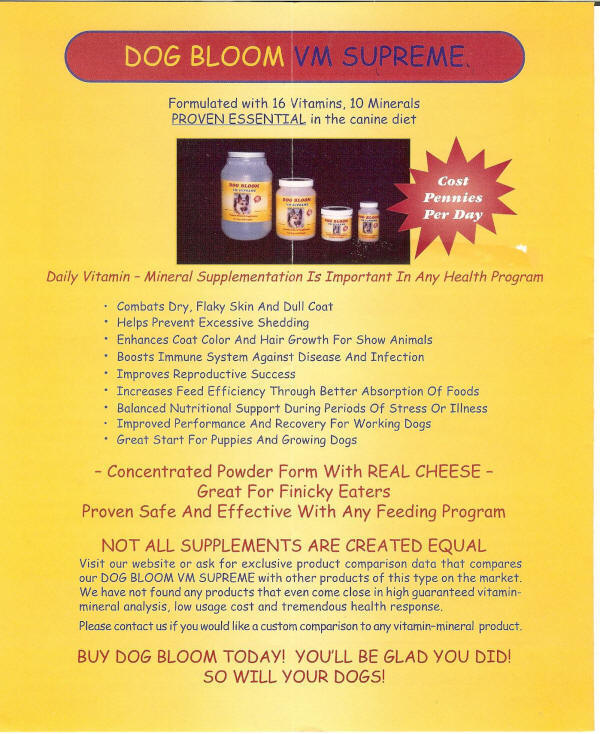 We recommend the VM SUPREME, M121 and Vitamin C2 for your new Puppy along with Digest Aid.
It's all in a POWDER form and is easily mixed with their Morning Meal! Just add a little WARM water.
My dogs love it : )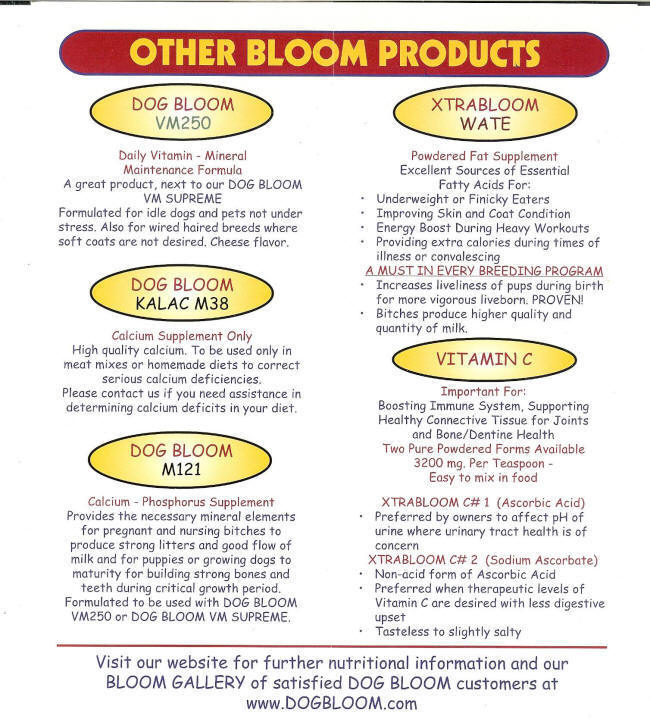 Explanation of the products....
PLEASE visit Dog Bloom's Website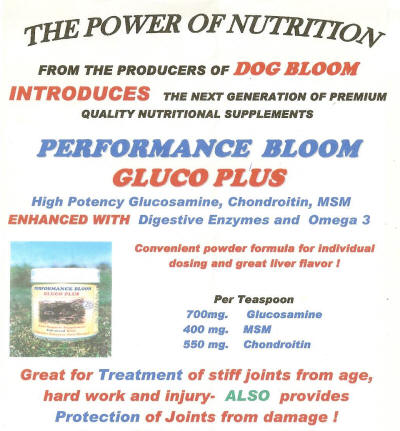 INCREDIBLE Product!!
If you have ANY questions whatsoever, please give DIANA a call at 1-800-833-4748 and she will take care of you!
Any questions about YOUR NEW MINTERN PUPPY, also Diana is the one to call!
Diana knows my puppies and the way I raise them, she will be able to answer your questions and concerns!
I am very proud and honored to HELP Diana continue on with her wonderful product. She has helped hundreds of individuals get and keep their animals in great shape~
THANK YOU for visiting and stop back again!
FIRST GENERATION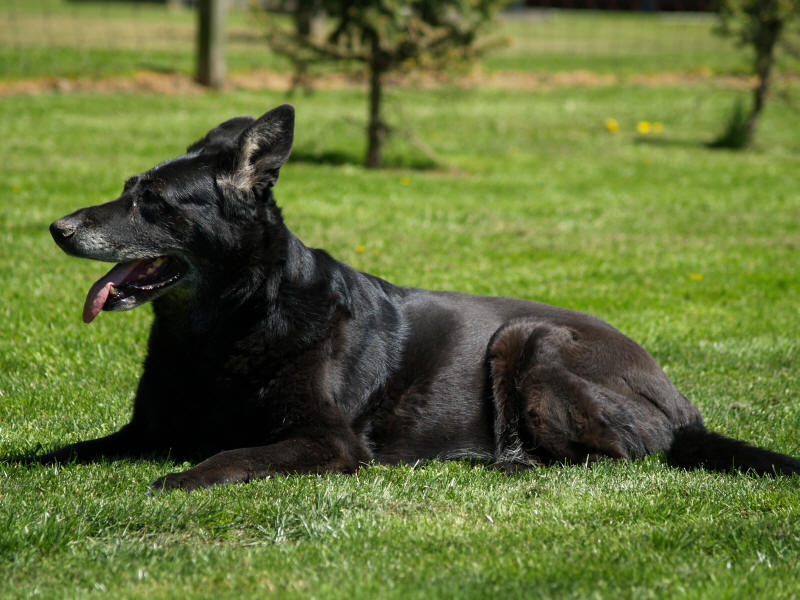 CODY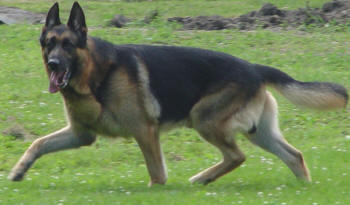 GIZMO
(One of our first males)

SECOND GENERATION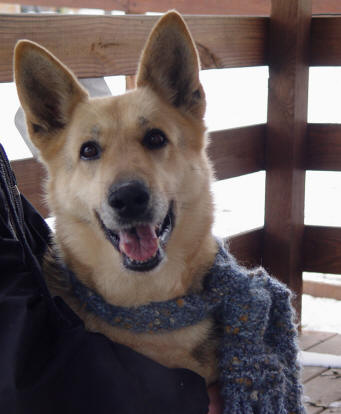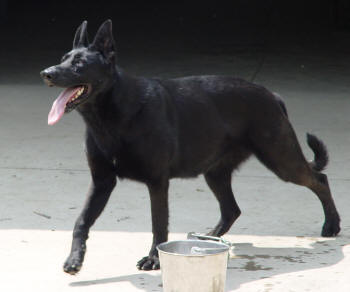 CHEYENNE KODIE
(Cody & Cody) (Cody & Gizmo)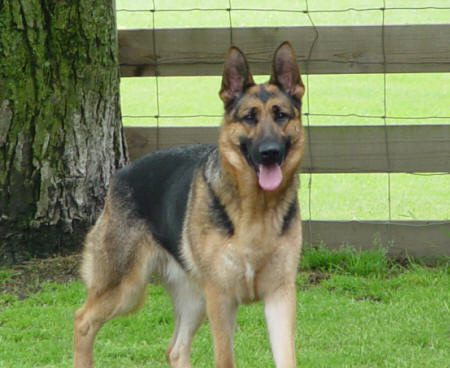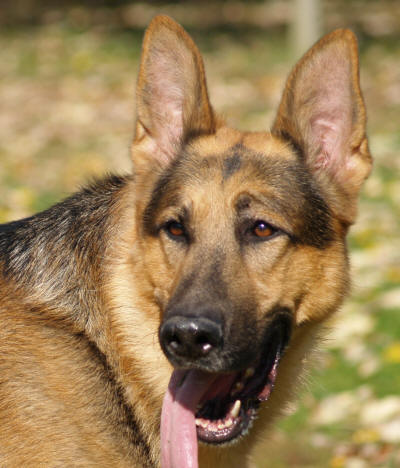 KODA TANK
(Cody & Gizmo) (Cody & Brax)
THIRD GENERATION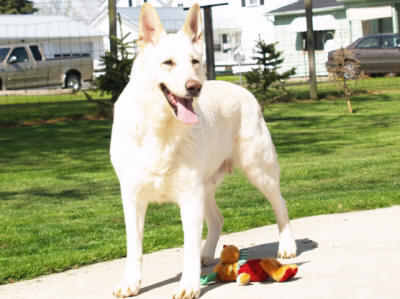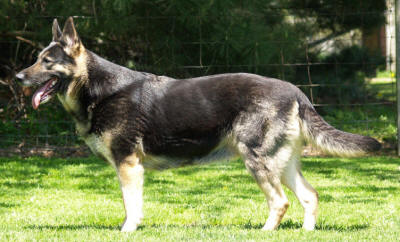 CHEROKEE MANDIE
(Cheyenne & Bubba) (Cheyenne & Bubba)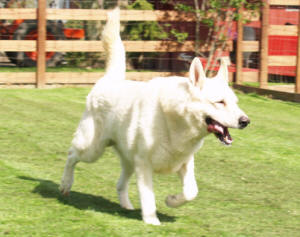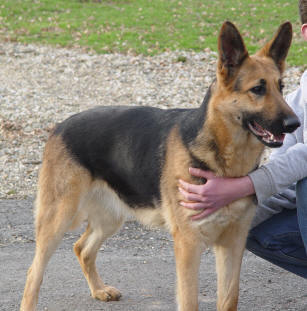 HARLEY NEENO
(Cheyenne & Bubba) (Cheyenne & Blue)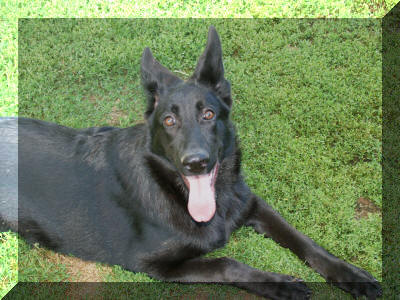 LITTLE CODY T-KELA
(Kodie & Jack) (Kesha & Tank)

FOURTH GENERATION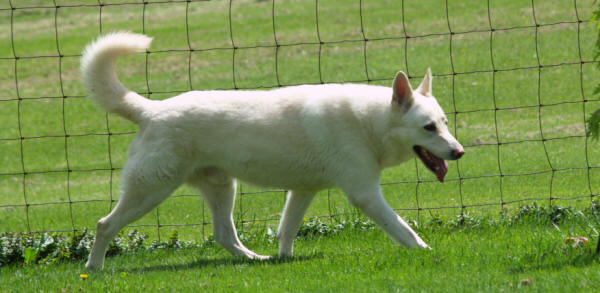 CHIEF
(Harley & Teakie)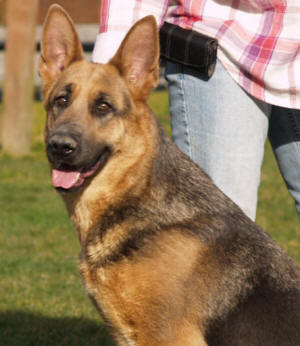 SMOKE
(Kesha & Webster)

SASHA
(Smoke & Danni)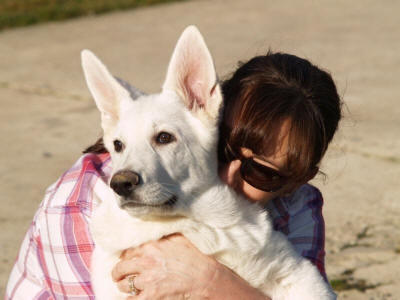 LIL BUBBA
(George & Moon)
7th Generation on Cody's side
Moon is from our Princess....Princess is from our Yukon, Yukon is from our Cherokee
Cherokee is from our Cheyenne and Bubba....Cheyenne is from my precious old
Girl CODY :)