Snowcloud's Denali
Mi Chief Braveheart x Mi Anitchka
Black Male
AKC, DNA, Micro-chipped
It was very hard for me to take him out of the breeding program.
He is old and healthy and produced puppies that just make me smile!
THANK YOU all who have one of his babies!

Danni has passed away and crossed the Rainbow Bridge....October 22, 2014
He died in my arms and I held him til he took his last breath....
I thank God for Danni's love and devotion...and for allowing me to be with him to the end....
I love you Danni!! :)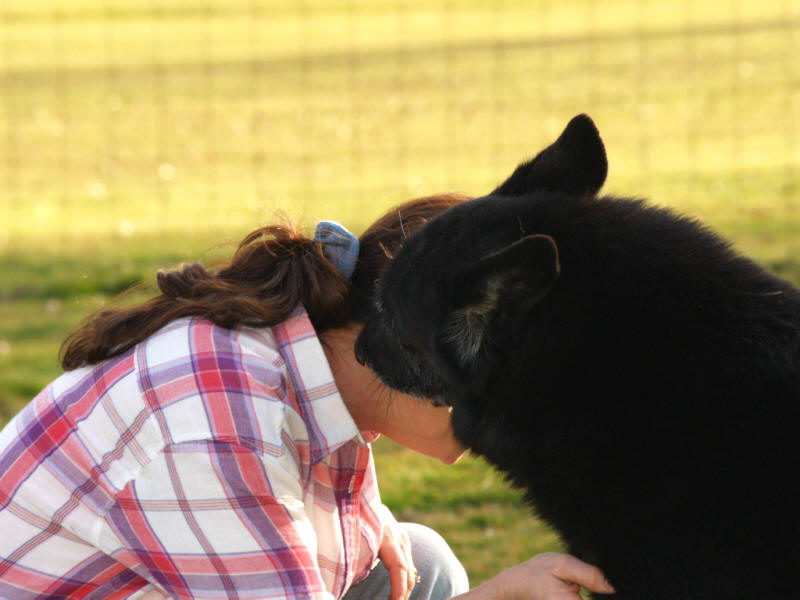 He is like Bubba....very loving an caring...
I was just bent down to say hello and all he wanted to do
is KISS me....I love you Danni......

playing in the snow with Mandie & Little Cody :)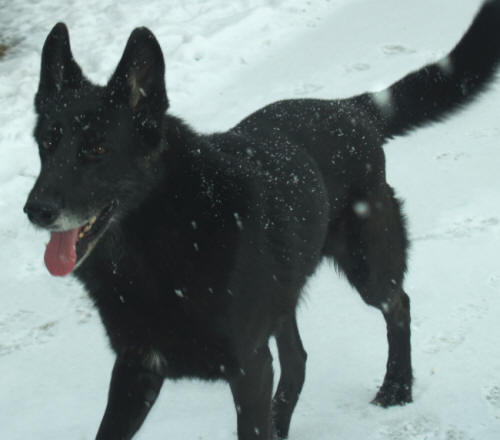 Danni is more beautiful now then ever! I hope to get new pictures when the weather allows....
He is just gorgeous! He has put on some weight and his coat is like silk :)
Danni has proved to be a wonderful GIFT to me...
He, like many others of the Snowcloud kennel, have come here to live with me and my crew. Danni seemed to be sad and depressed when he first arrived though....he was missing Alice and I knew this...unlike some of the others, he was quiet and content to lay on his deck most of the day and watch what was happening. With bringing home several of Alice's shepherds, we had to ADD ON to the kennel....both inside and out....Danni would just lay and watch.....
Danni is a son of my WONDERFUL and very missed BUBBA.....and his Mom is Anitchka, one of my dear Black girls from Cody....
As many know, I still miss Bubba terribly and with all the sadness of losing Alice and bringing home of her kids, I understood exactly what Danni was going through....I decided to see if he would come out into the yard with me one day....he was hesitant but then he decided to follow me.. that is when everything changed : ) Much to my surprise it was like Danni remember where he came from....right here....as a puppy.....he was born in our old kennel :) Danni seemed to understand that he was safe and that he had a new home. I vowed that when I brought home the Snowcloud crew that I would do whatever it took to make them all comfortable.....Danni now is certainly a part of my everyday :) for that I am so thankful and honestly I couldn't be happier having one of Bubba's son come home and be here with me....
My heart is still heavy with the loss of Bubba and Alice within a year of each other.....but I know that Life is certainly a beautiful gift in which we need to be THANKFUL and CHERISH daily.....I am happy that I have Danni here with me...I am also happy to announce that he has had INCREDIBLE puppies for us since arriving and I know he is passing on his sweet, kind and loving nature.....this is a true blessing~
Please stop back for updates, pictures and pedigree......
THANK YOU KINDLY for taking the time to read about Danni....he is a beautiful solid Black Shepherd.....and he is a Cody GRANDSON.....so many things make Danni so special to me....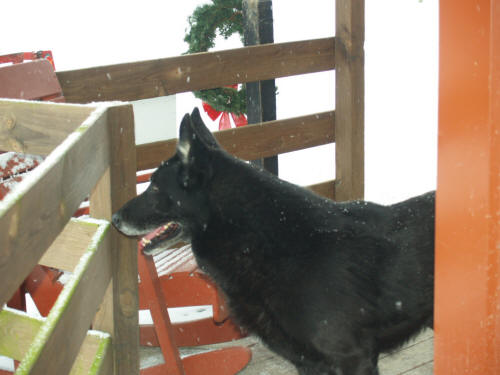 Watching Little Cody & Mandie :)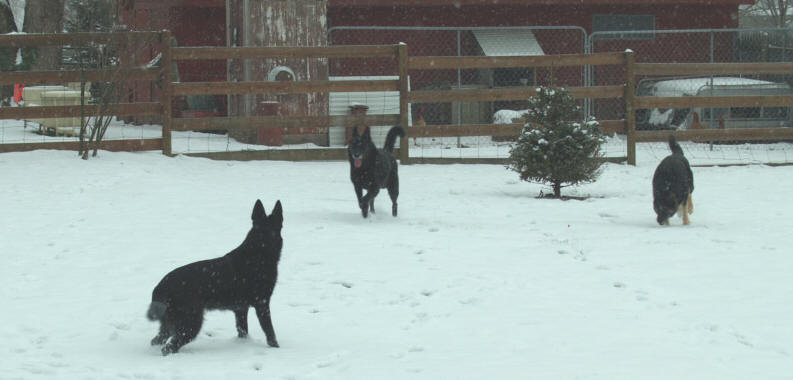 Playing with Little Cody & Mandie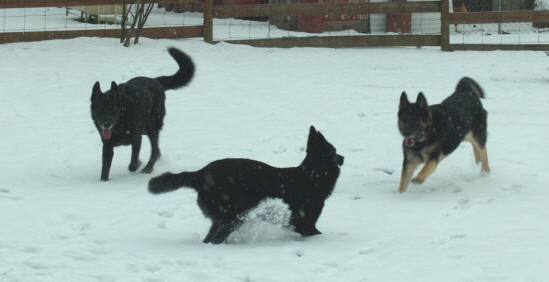 Mandie & Danni are both from Bubba.
Mandie's Mom was Cheyenne
Danni's Mom was Nitty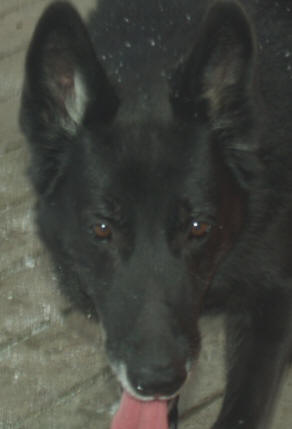 To read how the Snowcloud Crew came here to live with me....CLICK HERE