MI Princess Cherokee

MI Chief Braveheart x MI Cheyenne
White-Female
AKC, Microchip & DNA, Hips X-rayed
RETIRED
Cherokee is a wonderful girl! Thanks for visiting her page!!
As Cherokee gets older, I sometimes have to really PINCH myself....as she continues to be so strong and healthy....she has given us MANY wonderful puppies....and I look back on all the things we have done since she was born here....

I am very happy to say that Cherokee is STILL very healthy, happy and just melts my heart every time I am near her :) She had wonderful parents....CHEYENNE and BUBBA and I must say I just couldn't be happier....she is just an awesome gal~
Enjoy her pictures from over the years......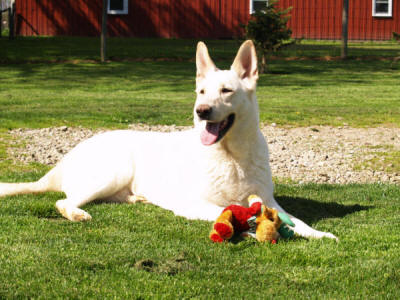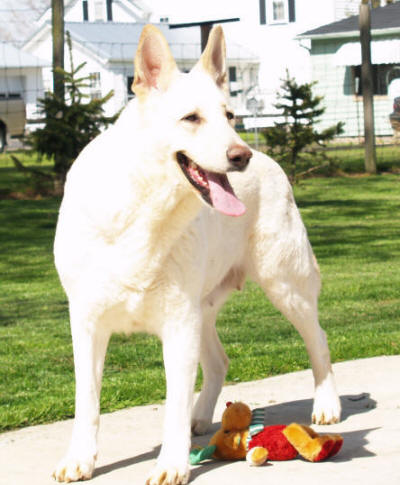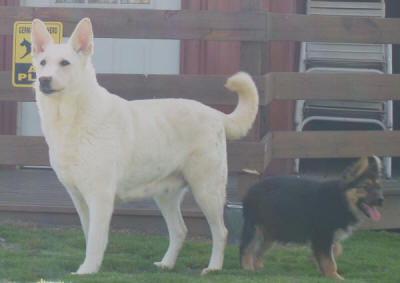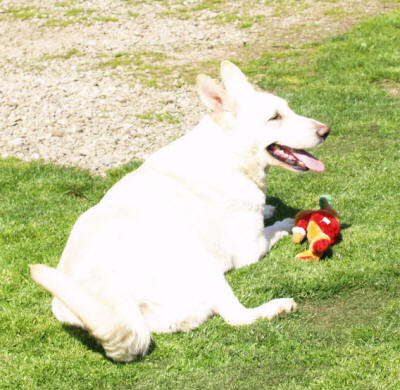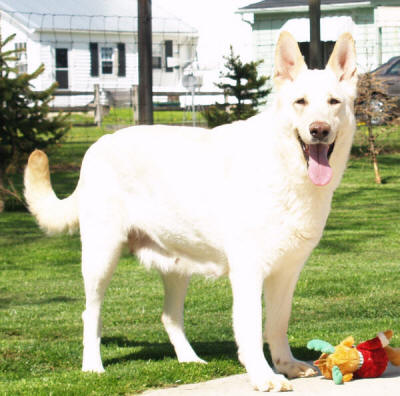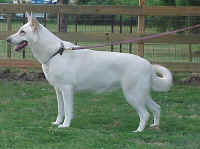 This is Cherokee July, 2002
I love this girl. She is CHEYENNE and BUBBA through and through! Loyal and sweet, kind and smart. Always willing and never in a BAD MOOD : ) haha She is just one of those girls you can count on and take anywhere, anytime : )
Look for her to have a couple more litters for me before retirement....
I love you Cherokee!!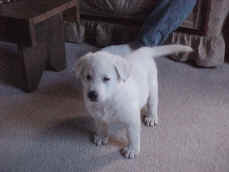 Here is a picture of Cherokee when she was 6 weeks old. Her Mother was Cheyenne, one of our foundation females and her Father was Bubba, who has won hearts of many. Bubba was a wonderful specimen of the German Shepherd. He will forever hold a special place in our hearts. We love our Bubba!! Visit his dedication page here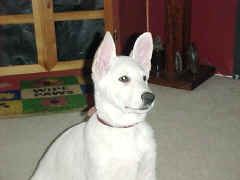 Cherokee was 9 weeks old in the picture to the left. She was great with house breaking and seemed to love all the company of the other dogs in the house.
Cherokee did follow in her Mother's footsteps and we could not ask for anything more. Cheyenne has a heart of Gold and it never stops. Cheyenne was one of those dogs that you can always count on. She is undoubtedly one of the best dogs I have ever had the pleasure of owning!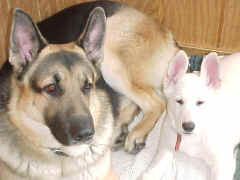 This is Cherokee with her Daddy, Bubba : ) They are wonderful together and Bubba dearly loves her and all the puppies here at the kennel!!
Look for updates and new pictures as Cherokee grows and
enjoys her new life with us.
Thank You for viewing her page.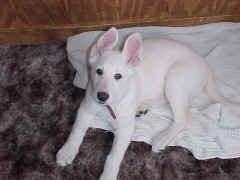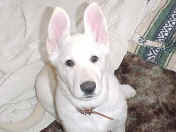 Below are some pictures taken in the Summer of 2001 and the Summer of 2003-Her YOUNGER years :)