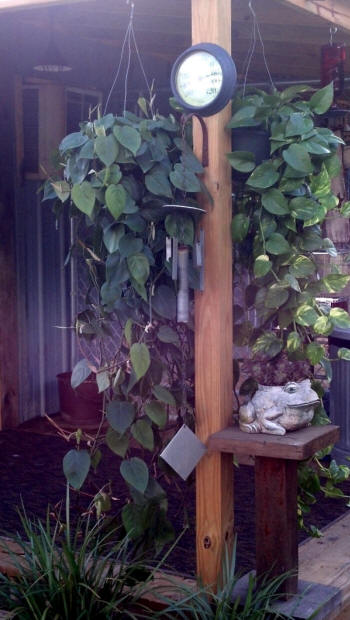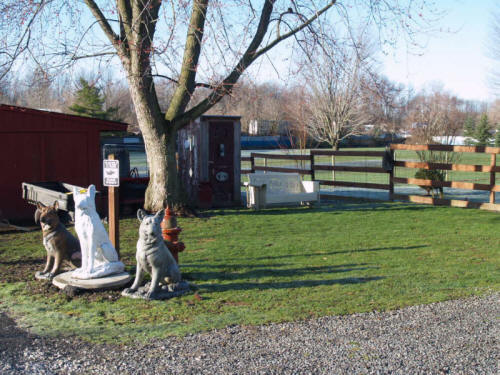 Bubba's statues keeping watch.....waiting for summer : )
I miss you Bub......my heart is still broken.....
Our Kennel is going through some changes and we hope that you share in this with us by stopping back often.
We will have more news soon so please stop back to share in our joy about our NEXT CHAPTER is a wonderful book called LIFE~
THANKS : )
We look forward to adding updates and hope that you will stop back soon :)
New things have been happening at the kennel.....We added to the north side of the kennel, so that we could house the new additions we brought back from Snowcloud. We brought home the last few and remaining Snowcloud Shepherds from Illinois. The last shepherds that Alice Horton held close to her heart, are now here in Ohio....
It's been a tremendous amount of work but we did get some help from Richard, Alice's son.
He helped provide us with some fencing and pieces and parts :) we are grateful for this help.
We hope to continue to help provide you and your family with wonderful Family Shepherds for many years to come.
We will now have White German Shepherds as well as Traditional Black & Tans, Black & Reds, Sables and Blacks......
Thank you for stopping by to ready about our kennel.....we hope you find the following information helpful.

Thank you for your interest in our German Shepherds. We have been breeding for over 16 years now with Christian Morals. There is nothing more important than honesty and integrity. We feel very proud that we possess both in our lives and in our breeding program. I have been fortunate, in the past, to have worked for a wonderful Veterinarian for close to 12 years and I have worked closely with the German Shepherd breed through other Vets and rescue groups. There is not a day that goes by that I do not learn something new and I am forever trying to share with others.

We would like to share some of our pictures of the kennel with you. We try to update : ) Hope that you enjoy. It's been a rough & wonderful 15 years and all the work has been done by all of us, our kids included, Brandon, Dustin and Brittany...... and mostly my husband, Paren! He is the very BEST and I honestly do not know how I will ever be able to THANK HIM for making such a wonderful dream come true and giving us such a wonderful Life..... We have wonderful family and friends who have worked with us many LONG days also! It's not easy to carry the responsibility that we do with all our dogs and animals but it's SO WORTH IT and when someone writes or calls with JOY in their voice about their shepherd, we then know we are doing the RIGHT thing. We feel very blessed to have this opportunity to share with you!!
Pictures of BUBBA, who has since these pictures, Crossed the Rainbow Bridge and JACK......my boys.....thanks for visiting!!



Preparation & Work area!







Nursery Area - 2007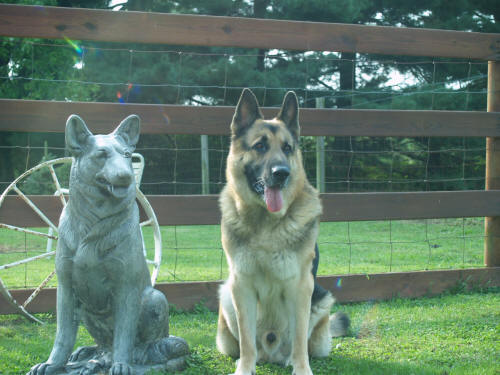 We wanted to UPDATE everyone on our "new" kennel happenings................ It's going on 10 years this July since we started building and we have officially opened the kennel : ) WOW~ where has the time gone....... Our dogs have adjusted well to the new kennel and everyone seems to like their new home........

So many things has changed since building our new facility! It's now a part of our every day life and not so NEW anymore : ) We had added things and also deleted things from the kennel as everyone knows once you are IN, you find things that you could have done differently :) We are still very happy with the kennel and the dogs are safe, clean and happy as well!
We thought about this for a while and have decided to start boarding on a limited basis and we shall board ONLY pets of past customers and for new customers. Some exceptions can be made. We want to specialize in the care and handling of Shepherds, focusing on their individual needs.
Our facility is Clean and Safe. Because we are offering Individual care, we can spend more time with each dog. Those who have boarded in the past know that we take every precaution to tend to the dog's needs, whether it be just having fun or caring for an older dog.
The Kennel does have heat and usually there is no need for air conditioning : ) This building was designed and built by my husband and is situated on the property so that the kennel feels like there is a permanent wind tunnel in the summer : ) It's just perfect!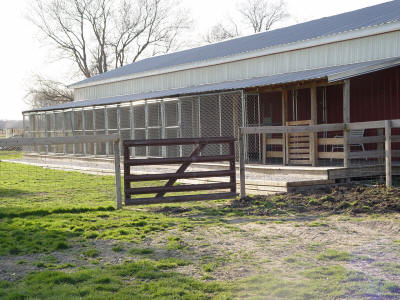 Outside kennels..... still work in progress : )
Old Pictures! Hope to have some new ones SOON : )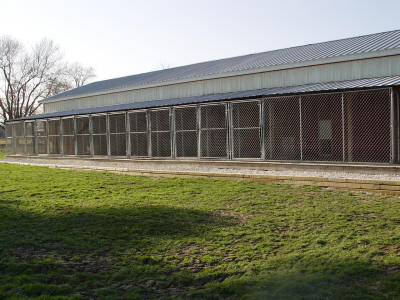 Lots of work still needs done......but we are getting closer!!
This was several years ago....we have changed a few things since, but it's still NOT DONE : )
HA!! will we ever be done......
We are continually changing things as time goes. We have moved some fences this spring and have added more deck area for new kennels.
If you are interested in boarding your puppy or dog with us, please call ahead of time. My summer dates available usually book up quickly.
Please call 330-772-3801 or email me at Misheps@embarqmail.com
To read more about our kennel, please click here.

2004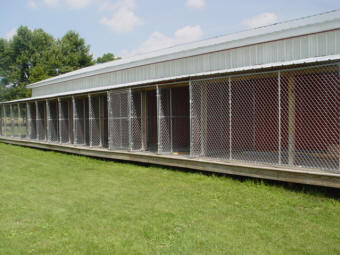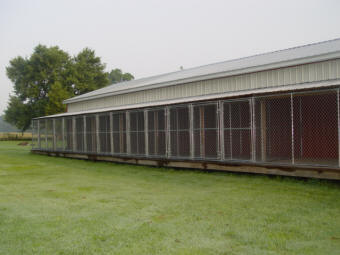 NO doors....... WITH doors :)
Outside kennels just being finished in 2004.
We have made more improvements and I will post pictures as the weather permits : )



Outside pictures-2004







2004 Inside pictures, finishing the gates and stall areas for the doggies





The WORK are back then.......now it's on the other side of the kennel :)

I found this old picture.....it is of the FIRST TRUSS going up...it's not a great picture...but this is from July 31, 2002...
A few years ago now :) Just thought I would share :)

We are STILL working on the "KENNEL" for our wonderful "KIDS" WE APPRECIATE that there are families out there who have a Mintern Puppy and who have helped us continue in our quest for super family companions! WITHOUT those who are in contact with me to keep me updated on things, we would not be able to move forward and continue with good, healthy and kind dogs!
ALSO, there are people who have offered their generous HELP with the kennel and we truly appreciate it! We are blessed and we are thankful in knowing that we have great Family & Friends who support our endeavor!! This is a very BIG step for us and we appreciate all the support from everyone..
We raise family dogs for family people. Most of the people who purchase our dogs purchase them as family companions and protectors. The German Shepherd goes beyond this. They are much much more than JUST companions and protectors. They see, feel and live everything you do. They are just wonderful with kids and the elderly. My
Mom passed away not long ago and we had her female German Shepherd here with us who was Mom's best friend and protector. It was hard for Dakota to understand that Mom left her and did not return. She was Mom's shadow and surely one of Mom's most trusted friends! My Dad has been gone several years. Bless His Heart! Mom had Dakota and Misty, a Jack Russell Mix at her side til she left us. Both dogs had a hard time with losing Mom. Misty was more then a shadow for MOM :) she was the bed warmer, chair warmer and couch warmer.....you get the picture : ) Dakota and Misty have both passed over the Rainbow Bridge now and I am sure they have visited with our MOM and she is smiling. We believe that Misty and Dakota both died of BROKEN HEARTS.....we too knew that pain and still do!! We miss our Mom terribly! There just are NO WORDS for that kind of loss........

In closing about "OUR KENNEL" please know that every precaution is taken to provide you with a healthy, happy puppy. This puppy, with supervision can grow into and wonderful, healthy adult. I am in close contact with my Veterinarian continuously regarding my dogs, their needs and the puppies that I send home. My puppies are sent home with a guarantee and there is a contract stating that I do guarantee my pups. There is not a question that I will not address. I encourage everyone to ask lots of questions and I vow to answer to the best of my ability. I love my dogs and I love my job as their keeper : ) I have been given a wonderful JOB by my creator : )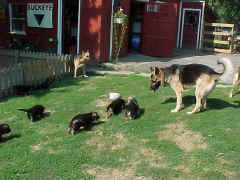 We also use the Volhard Puppy Aptitude Test that is a reliable evaluation of the puppy's temperament, obedience and working ability. This test was developed by Joachim & Wendy Volhard. This type of testing can help place a puppy where he is best suited. Each family has different daily routines and the shepherd is one who can adjust well with supervision. A puppy has a lot to learn his first few months in his new home. All the work that is put into this training when he is young will pay off when he is older. The Puppy Aptitude test is not full proof but it can be very helpful in understanding the different personalities of each puppy and helping him use his unique characteristics to his full potential.
The picture to the left is of Bubba before he was a year old....yeah...hard to believe : ) he was playing in the yard where NOW sits our koi pond.....that is also the front of the OLD Kennel, which was just a block building....garage at one point.....with love and devotion it was turned into our small kennel.... and you can see CHEYENNE off to the left there...by the little fence :)

We hope this has enlightened you and your family. Again, we thank you for your interest and encourage you to continue exploring about our website and visiting with our Shepherds.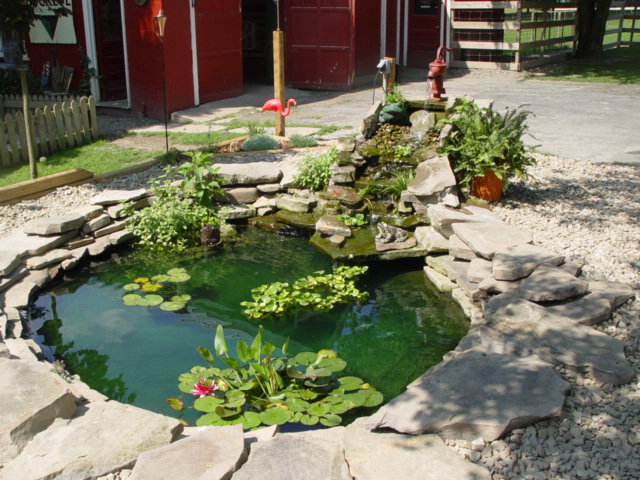 Thank You So Much For Visiting! THIS Pond was an addition that my husband, Paren did, along with my sister Terris, her husband Allan, and their kids AJ & Akili, in the Spring of 2004 while my Mom was here with us. She loved sitting by the pond and that helped fill some of the sad days. She loved to be outside and feel the fresh air and I think that is something she handed down to all us kids......all four of us...my oldest brother Harvey is now gone, there is my brother Bob, who was here with us while losing Mom, ME and then my baby sister Terris...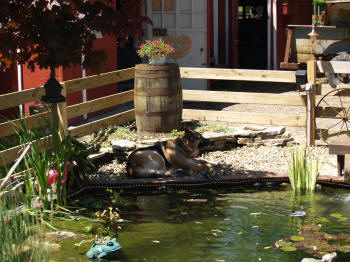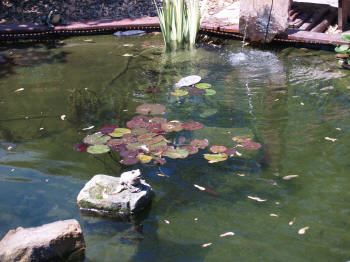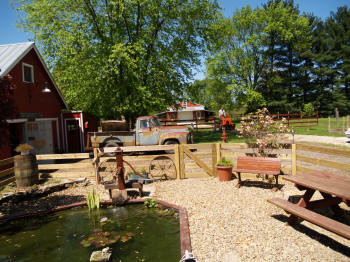 The above pictures of the pond area were taken May 2006........we have CHANGED the pond and made it bigger : ) It's alot of fun and Bubba thinks the FISH ARE HIS! haha AND we CONTINUE to change things around here.....

AND..........We have since added lots of things, it's just a continuous process : )
THANKS AGAIN....and we appreciate that you stop back to visit.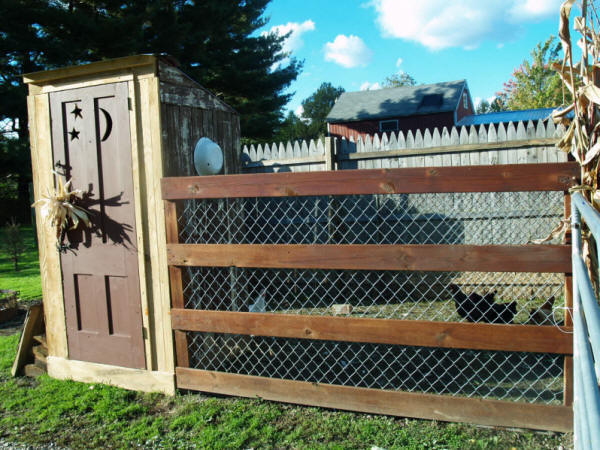 NO, NOT THE KENNEL ha ha .....this is our HEN HOUSE, which now has an addition of 4 bunnies..

Thank you!!